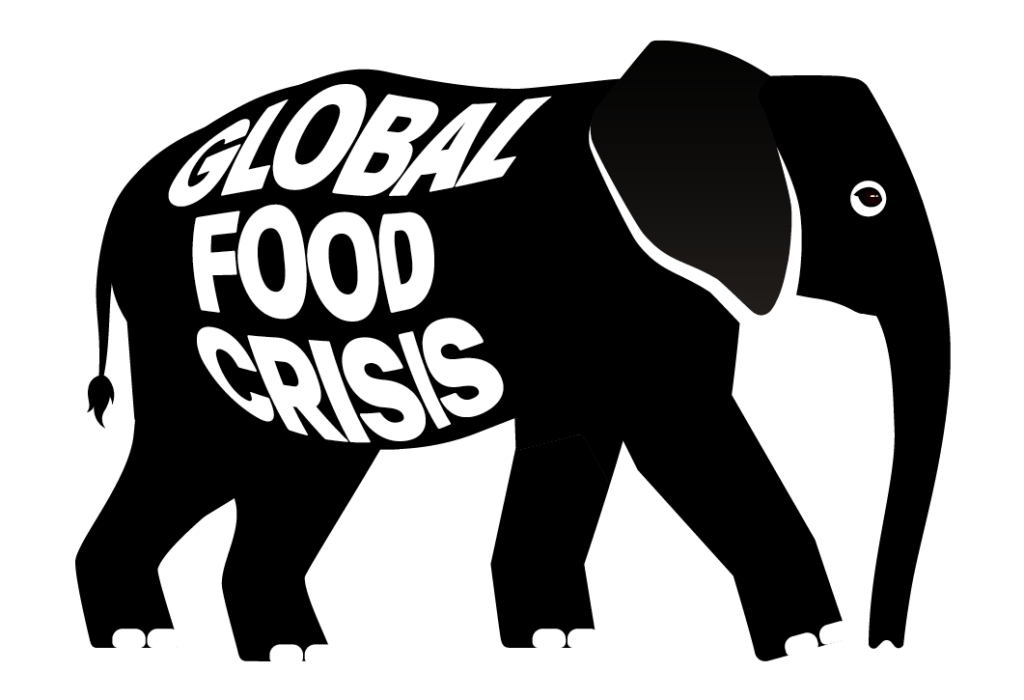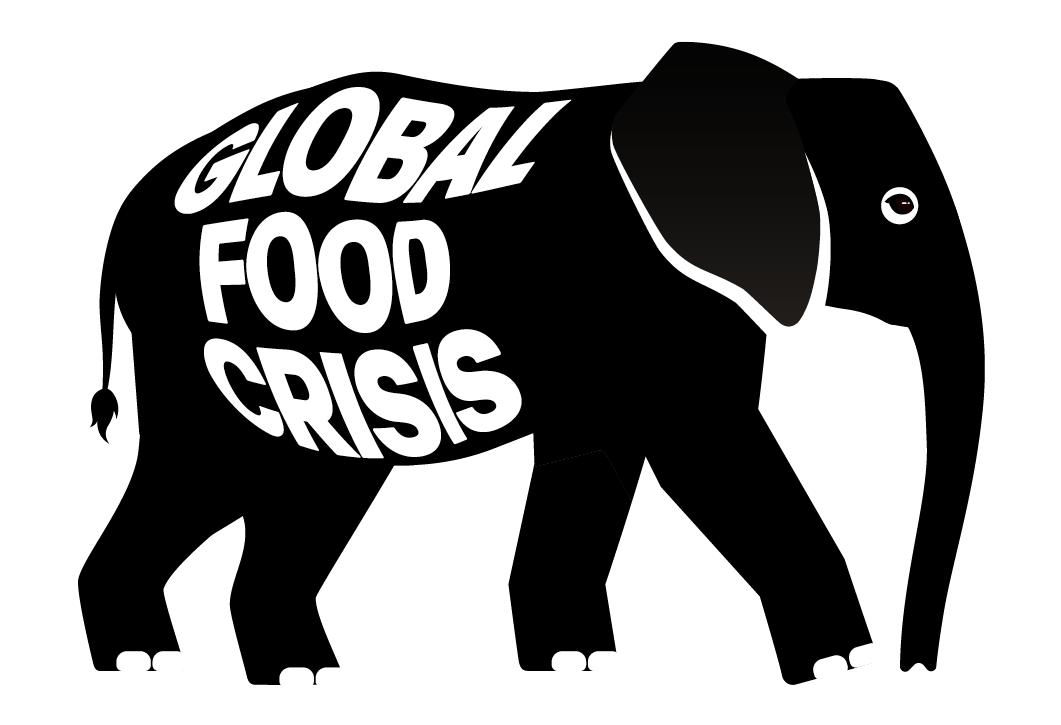 Right now, 735 million people face hunger and one in three of the world's population is malnourished.
But the global food crisis is the 'elephant in the room' – too often ignored in political discussions and in the media.
It's a climate crisis, a conflict crisis, and a cost-of-living crisis: it demands a massive and joined-up global response that is currently lacking.
Powerful voices and organisations are coming together to demand our leaders recognise this crisis and take the action needed.
An elephant in the room – no more!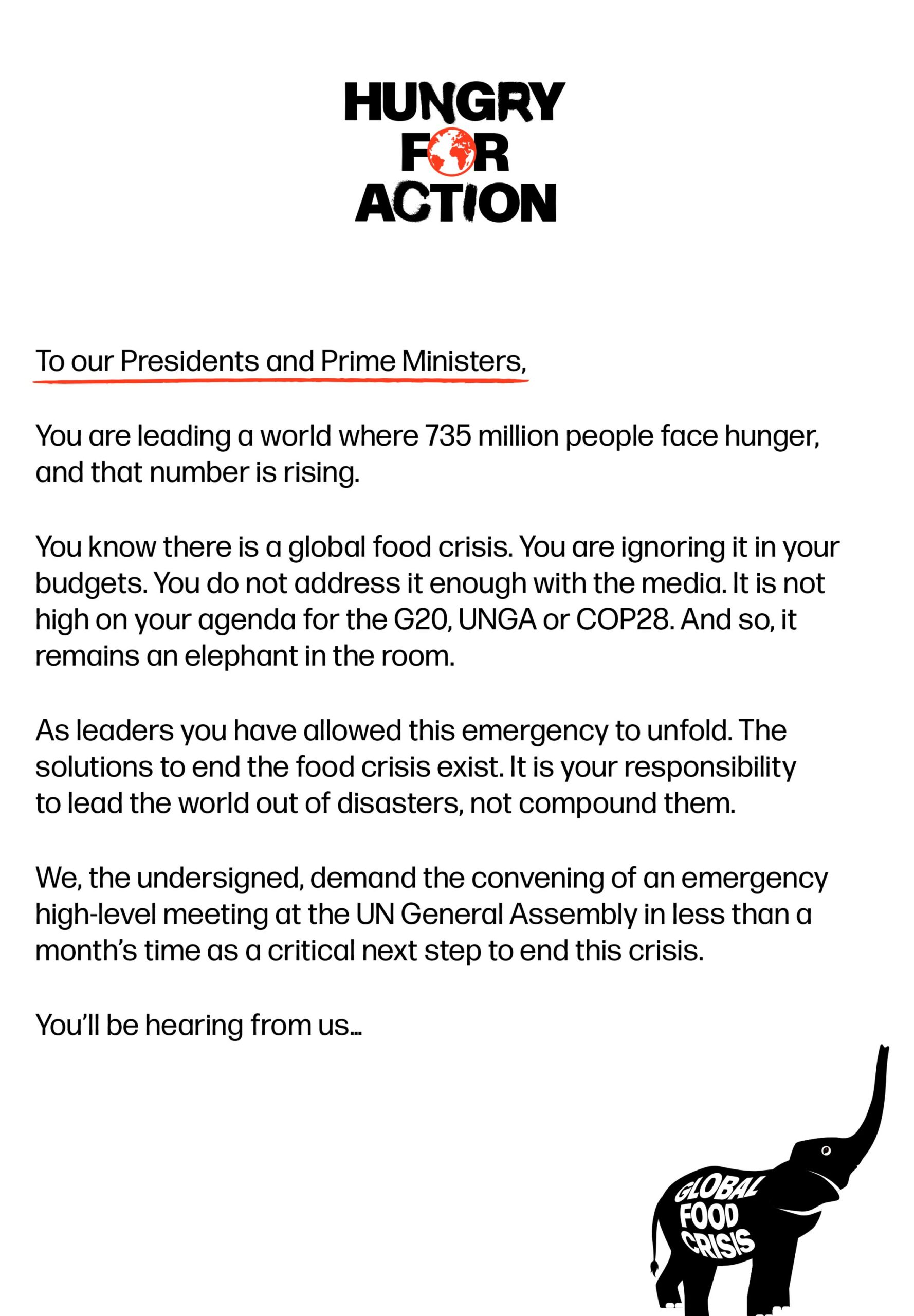 Signed:
Bettinna Campolucci Bordi
Chef and Author
Bobby Chinn
Chef, Restaurateur, TV Presenter, Author
Bob Geldof
Activist and Musician
Rev. Eugene Cho
President/CEO, Bread for the World
Richard Curtis
UN SDG Advocate, Screenwriter, Producer and Film Director
Cherrie De Erit Atilano
Founding Farmer/President & CEO, AGREA
Anahita Dhondy
Chef & Author
Jamie Drummond
Founder, Sharing Strategies, Co-Founder ONE.org
Jim Emerson
CEO, The Power of Nutrition
Monika Froehler
CEO, Ban Ki-Moon Centre for Global Citizens
Sabrina Dhowre Elba
IFAD Goodwill Ambassador, CEO of S'ABLE Labs, model and activist
Gwen Hines
CEO, Save the Children UK
Mike Khunga
Nutritionist and Public Health expert, The University of Leeds
Abigael Kima
Founder and Producer, Hali Hewa Podcast
Wangari Kuria
Founder and CEO, Farmer on Fire Ltd. 2023 Global Citizen Prize Winner.
Wanjira Mathai
Managing Director, Africa and Global Partnerships, World Resources Institute
Dr. Mithika M. J. Mwenda
Executive Director, Pan African Climate Justice Alliance
Wawira Njiru
Founder and Executive Director, Food for Education
Octopizzo
Performing Artist & Founder Octopizzo Foundation
Lorna Maseko
Celebrity Chef and Cookbook Author, Director of Bophelo Foundation
David McNair
Visiting Scholar, Carnegie Endowment for International Peace and Executive Director, One.org
Father Alex Muyebe
Executive Director, Jesuit Centre for Theological Reflection
Amanda Namayi
Youth Advocate for Climate Action & Zero Hunger
Vanessa Nakate
Climate Activist
Paul Newnham
Executive Director, SDG2 Advocacy Hub
Elizabeth Nsimadala
President, Eastern Africa Farmers Federation
Rev. Adam Russell Taylor
President, Sojourners
Dr. Gunhild Stordalen
Founder and Executive Chair, EAT
Niki Webster
Chef & Author
Andrew Zimmern
Chef, Passport Hospitality, UN WFP, Nature Conservancy, IRC
Spread the Word
Share on social media to show your support.
Tag us @HungryForAct
It's outrageous that 735 million people around the world are going hungry. This #elephantintheroom can no longer be ignored. We call on our leaders to act to end the #globalfoodcrisis.
Get access to social media posts and assets to amplify the campaign.
Available on: