September kicked off an incredibly busy Autumn of summitry. All with significant implications for people and the planet. The high-level discussions and declarations began with the Africa Climate Summit aimed at aligning the continent ahead of COP28, and in India, very soon after, at the G20 Summit and set the stage for the deliberations in New York at the 78th UN General Assembly (UNGA).
UNGA 78 – Food was on the menu, but not enough to go around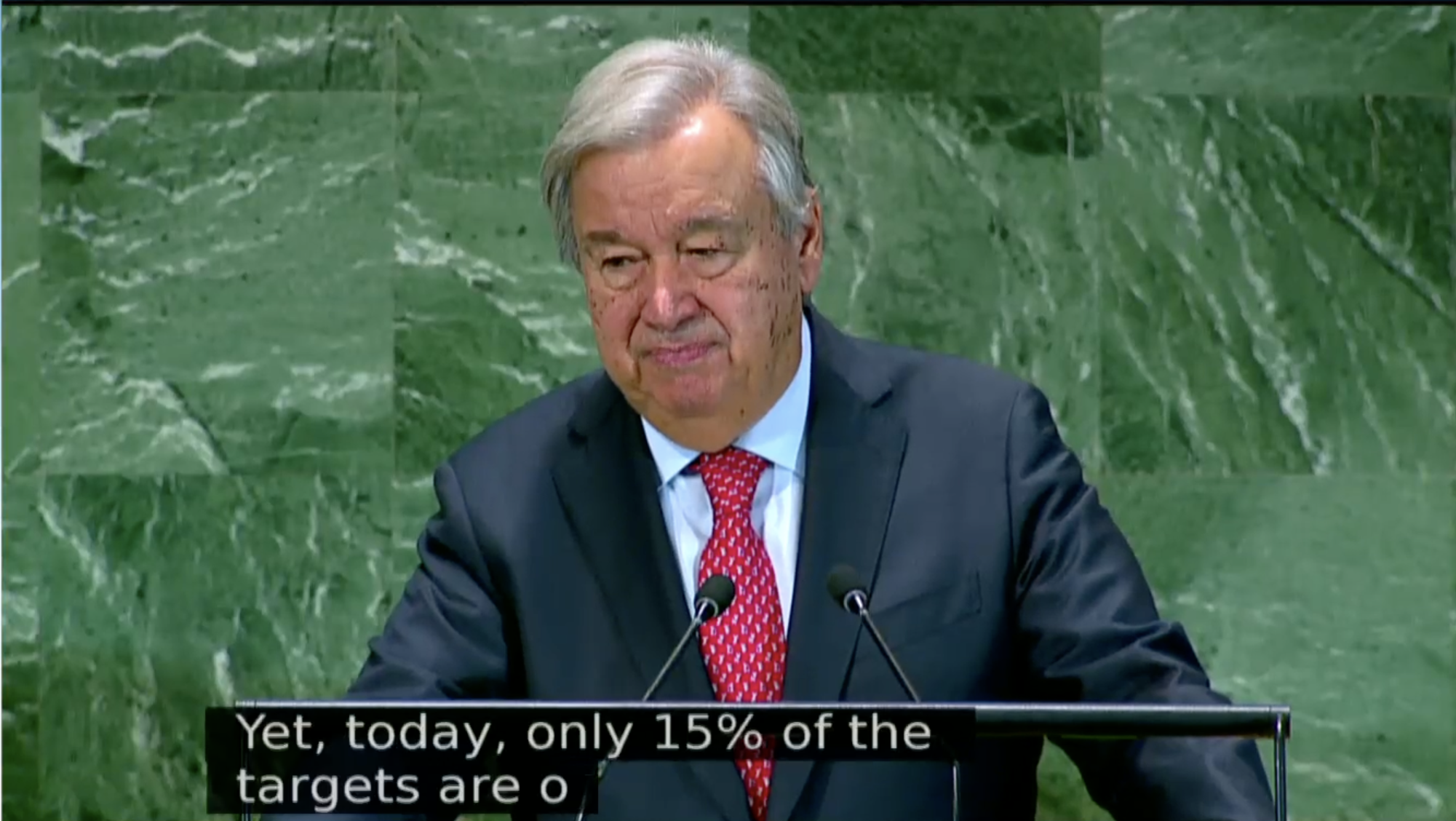 UNGA is the one moment each year that the majority of heads of state gather. This year marked the halfway point of the Sustainable Development Goals. Reflecting this,  the theme for this year's General Assembly was "Rebuilding trust and reigniting global solidarity: Accelerating action on the 2030 Agenda and its Sustainable Development Goals towards peace, prosperity, progress and sustainability for all." In addition to the General Debate speeches, the High Level Week included the SDG Summit; a High Level Dialogue on Financing; and the Climate Ambition Summit.
We were watching for financing and policy commitments and events focused on food security, nutrition, smallholder farmers, biodiversity and climate adaptation. Unfortunately,  progress towards the SDGs continues to be off track. SDG2 is one of the goals for which progress is slow and in the face of climate change, conflict and high cost of living that in combination are driving a global food crisis, SDG2 is at risk of regressing AS such we called for the global food crisis to no longer be the 'elephant in the room' at high level political gatherings.
The UN Secretary General Antonio Guterres,In his opening speech, spoke with urgency and outrage. He called for action on hunger saying: "First, we must take action on hunger.In our world of plenty, hunger is a shocking stain on humanity, and an epic human rights violation.It is an indictment of every one of us that millions of people are starving in this day and age." 
Brazil's President Luiz Inácio Lula da Silva noted that "(T)he world is increasingly unequal".He noted that geopolitics has contributed to rising global food and energy insecurity, and his government has had a long-standing commitment to address hunger and inequality. He announced that under Brazil's chairmanship of the Group of 20 (G20) in 2024, the G20 Summit will focus on social inclusion and hunger.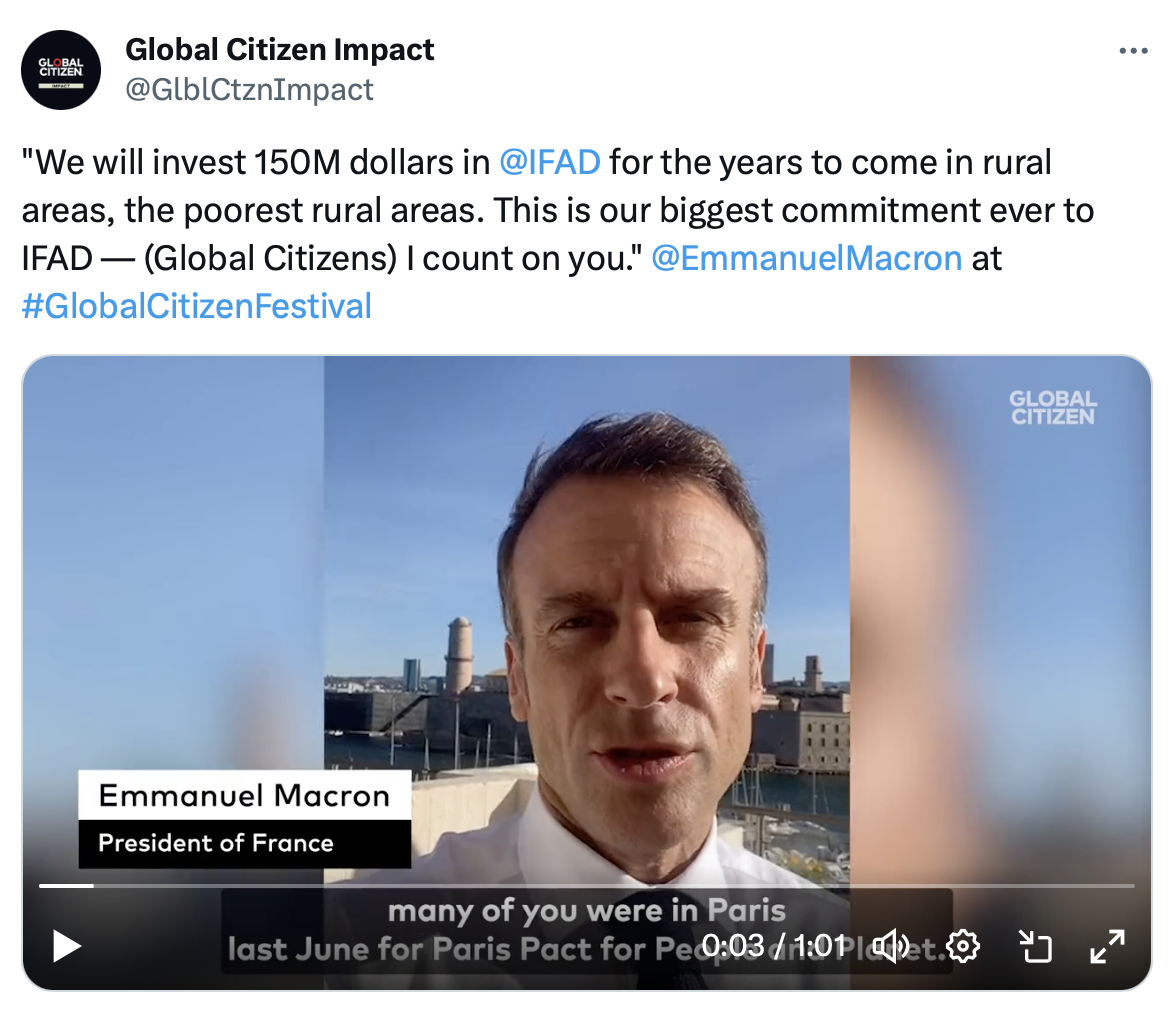 Financial Commitments:
In the lead up to the SDG Summit, Ireland's Tánaiste/Minister for Foreign Affairs and Minister for Defence, Micheál Martin T.D. pledged that Ireland will provide at least €284 million in 2023 for food, agriculture and nutrition programmes around the world. 
USAID and Norway announced the Financing for Agricultural Small-and-Medium Enterprises in Africa (FASA) Fund to spur investment in up to 500 agri-SMEs and 1.5 million smallholder farmers, ultimately benefiting nearly 7.5 million people.
U.S. Secretary of State Blinken reiterated a $100 million commitment to the Vision for Adapted Crops and Soils (VACS): "First, we're investing above ground: identifying the indigenous and traditional African crops that are most nutritious but also most resilient to climate impacts; … improving these varieties, and delivering them to consumers and markets. We're investing below ground: mapping, conserving, building healthy soils…poor soils do not produce rich harvests…And working through the International Fund for Agricultural Development – IFAD – we have also established a new multi-donor funding platform to help finance those better seeds and soils".  
Alongside performances by the Red Hot Chili Peppers and Lauren Hill, the Global Citizen Festival saw the announcement of $240 million from Norway and France for the IFAD Replenishment to support smallholder farmers and tackle global hunger. Global citizens also shone a light on hunger by signing the Face Up To Hunger petition that called on world leaders to address the global food crisis. Watch a quick recap of the Festival here.
How did SDG2 show up at UNGA?
Spotlighting nutrition:
A focus on the food and nutrition security of the most vulnerable:

The International Rescue Committee, World Vision International and Save the Children collaborated on side event

Promoting Child Survival in the Hunger and Malnutrition Crisis

.

Speakers included ministers of health of Somalia, South Sudan and Kenya, representatives of donor governments (UK, US and EU), CEOs of the three organizations, and a child advocate who spoke to the impact of malnutrition in her community. Three asks posed by Minister Yolanda Wel Deng stuck with us long after the event: acknowledge governments' capacity to make decisions and allow flexible funding; scale high impact, cost effective interventions; and provide long-term, sustained funding beyond emergencies for localized sustainable efforts.

World Vision Enough Campaign Launch:

Heads of State, the leaders of World Food Programme and the Scaling Up Nutrition (SUN) Movement, youth advocates and our very own Paul Newnham and Chefs' Manifesto ambassador, Lorna Maseko joined World Vision at the

launch of its Enough campaign

.

WVI pledged $3.4 billion

to end child hunger and malnutrition through systems change, as noted by its President Andrew Morely: "Preventing the deaths or stunting of the world's most vulnerable children goes beyond emergency food delivery; this is a systemic failure, and it needs systemic solutions."

Integrating nutrition:

The SUN Movement Secretariat organized an

event

on integrating essential nutrition actions into Universal Health Coverage with support from WHO and UN Nutrition and co-sponsored with Japan and Bangladesh alongside the High Level Meeting on UHC. 
A focus on agriculture and food systems: 
Raising ambition on food systems:

The Rockefeller Foundation, WWF, Global Alliance for the Future of Food and Food Tank hosted

Food Day@UNGA

to elevate food systems transformation in climate and development discussions, raise the level of ambition ahead of COP 28 and reinforce the importance of localized solutions.

Building resilience in food:

Foreign Policy hosted

Food+ at UNGA78

focused on the resilience of global food and water systems,agriculture and fishing industries in the face of climate change and conflict. Panelists focused on innovations that could be scaled, policies that are driving systems level change and the importance of investing in women as agents of change in their households, communities and nations. 
Changing the ways of working to accelerate SDG2 action: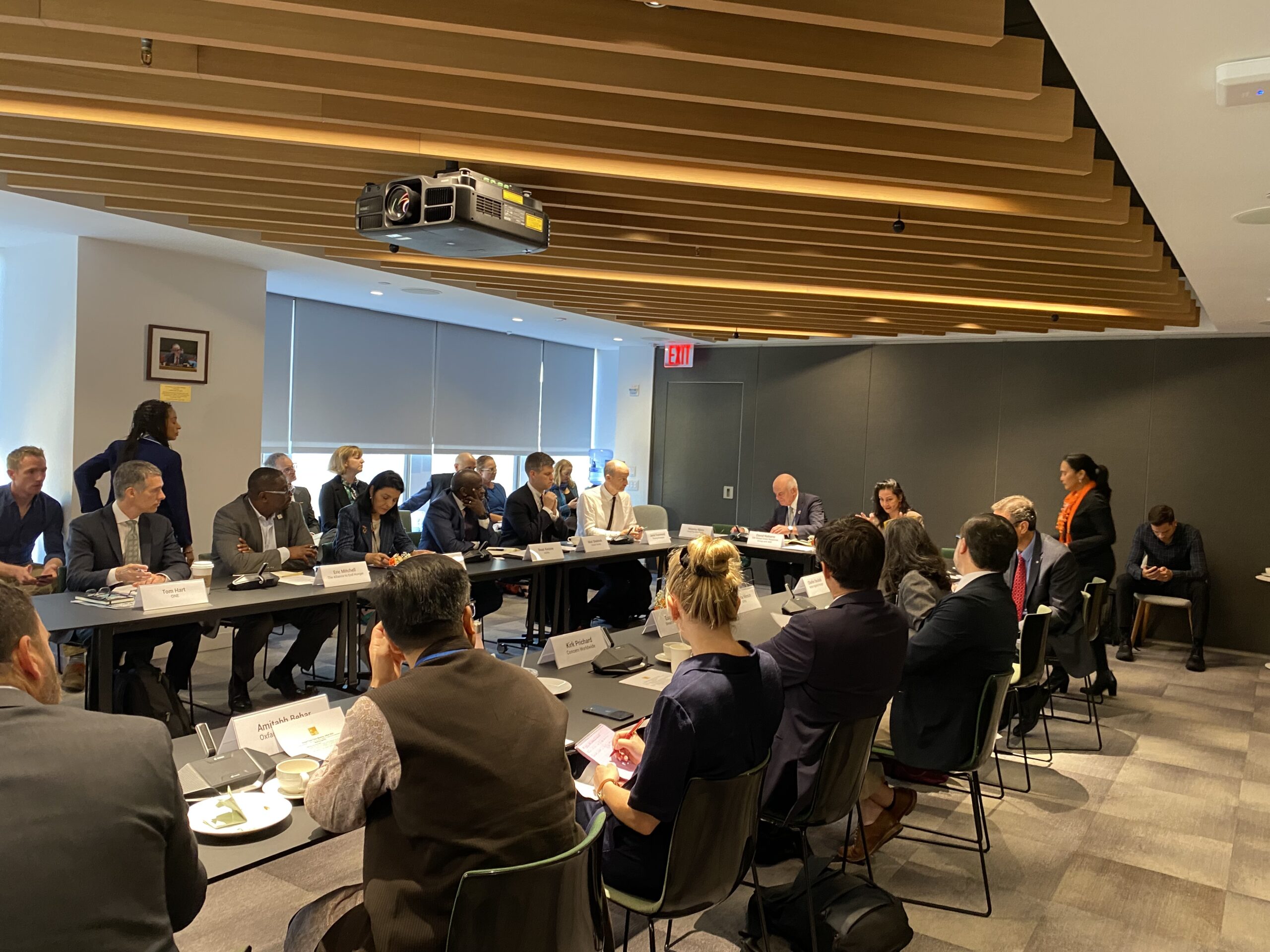 The SDG2 Advocacy Hub and Ertharin Cousin hosted an "Emergency Meeting"

which included  leaders from across sectors to think together about how to elevate the global food crisis as a political priority, increase ambition to break the cycle of crises, and identify key policy asks and political opportunities for collective action.
We brought the focus on the vulnerability of food systems and need for transformation together in our own event in partnership with New York University titled Good Food For All: Breaking the Cycle of Food Crises and Accelerating Progress for SDG2.

The SDG2 Hub gathered a cross section of SDG2 perspectives for joint learning and networking. Speaking on three panels – saving lives now, building resilience and securing the future –panelists showcased the interlinkages across food security, nutrition, agriculture, and climate, and the role of data, research and financing to build a cohesive approach to SDG2. They highlighted initiatives and opportunities for alignment, better coordination, and partnerships. Two highlights below:
David Nabarro's scene setting : "The nature of the global crisis is changing. It's not just a food crisis. It's not just a hunger crisis. It's the interplay between food, energy, and finance. Needs are greater while response capacity is lower. A quarter of world nations are paying more in debt servicing than on health and education. There is a seismic poverty slide that is underway with 1.5 billion people affected. People who are getting poorer need social protection, nutrition enhancing and hunger reducing relief, in parallel to planning and programming for resilience."
Afshan Khan underscored the need to come together: "I believe in the power of movements. To address malnutrition, we have to bring together business, civil society, UN agencies, governments, academia, around coalitions for a common cause. To influence the agenda long term you need to connect with local actors, touching on every component and cycle of a person's life, with nationally driven and locally supported work."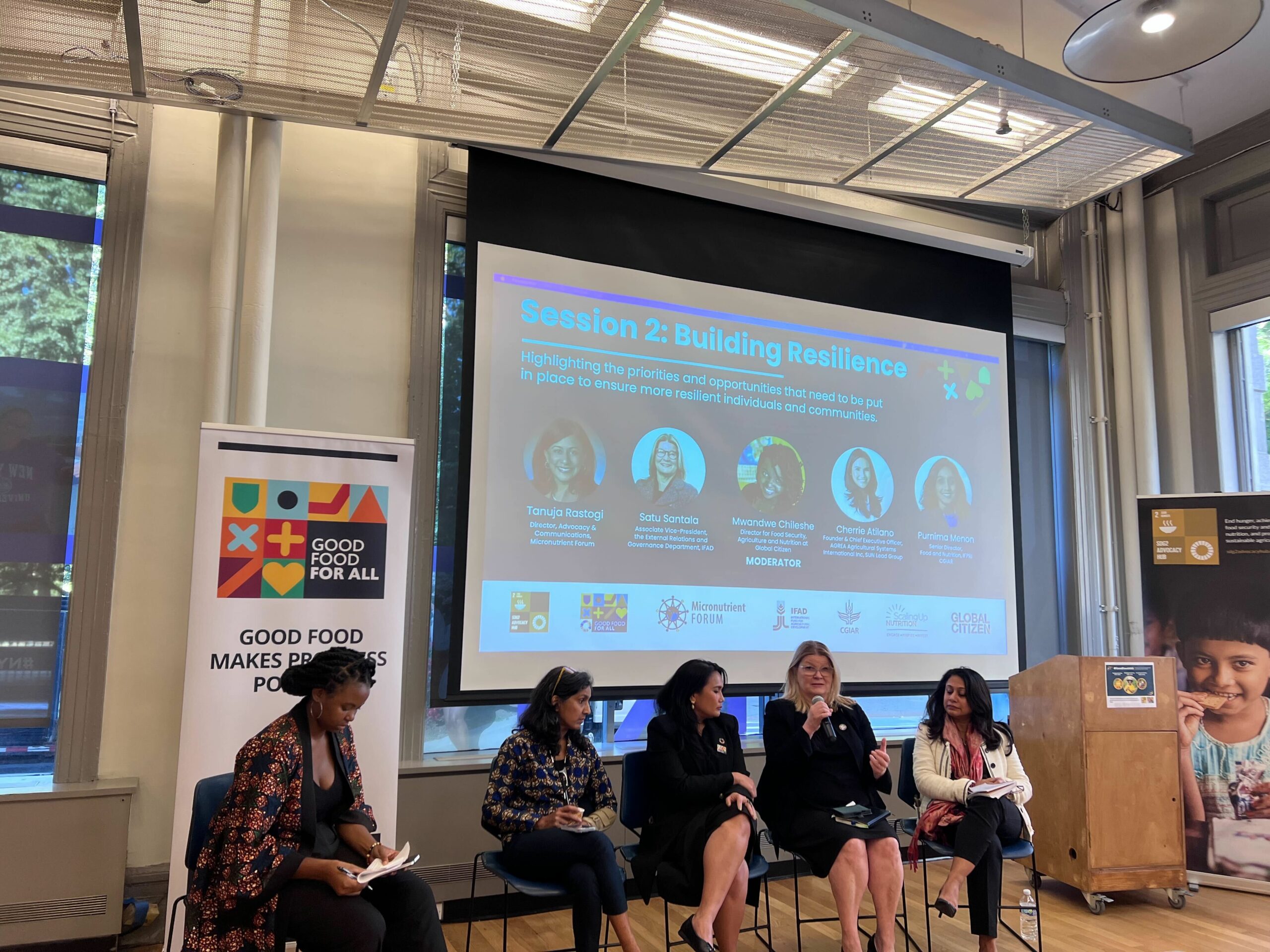 Forecasting SDG2 Action at the World Bank IMF Annual Meetings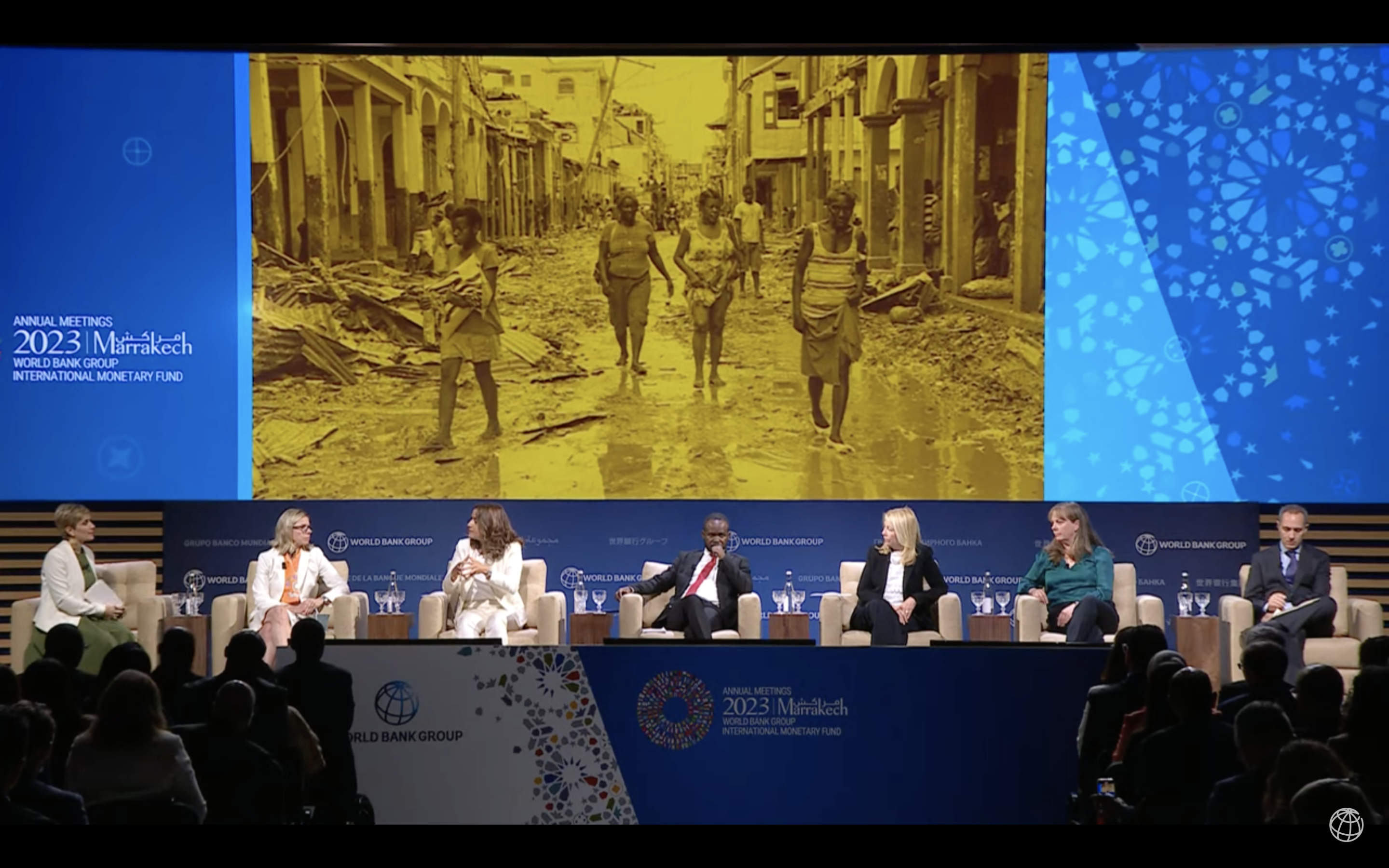 In 2022, the World Bank made $30 billion available to address the food crisis over a period of 15 months. According to a recent update, "the World Bank has scaled up its food and nutrition security response, to now making $45 billion available through a combination of $22 billion in new lending and $23 billion from existing portfolio" to 90 countries. It includes short term interventions such as expanding social protection, and longer-term resilience such as boosting productivity and climate-smart agriculture. This reflects the urgent need facing countries. 
This week, global leaders, finance ministers, technical experts and NGOs gather in Marrakech for the World Bank and IMF Annual Meetings. Although not traditionally seen as a priority for the SDG2 space, discussion at this year's meetings – addressing the debt crisis, reform of the multilateral development banks and a new evolution roadmap for the World Bank – will determine what and how much financing is directed to development and climate solutions in the coming years.. Malawi's Minister Sosten Alfred Gwengwe argued the case: "discussion of debt service suspension or cancellation must be taken seriously. We have no buffer financially – whatever hits us translates into worsening poverty for our people and the debt burden remains." Save the Children UK's CEO Gwen Hines reminded delegates that frequent shocks are the new normal and the world now needs to think how we keep making progress in a time of crisis. 
Anticipating How Food Will Show Up at COP28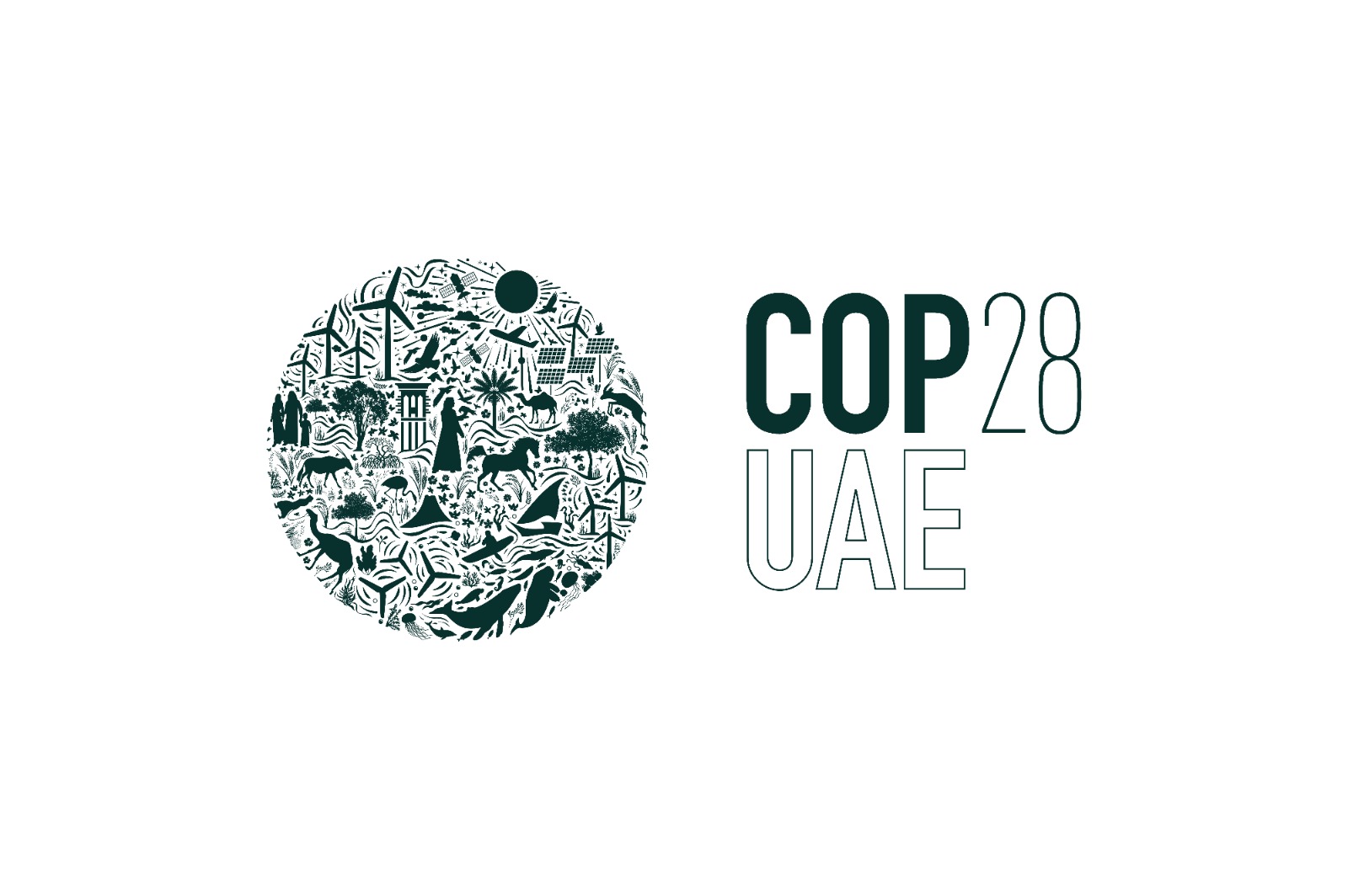 The end of November will mark the start of COP28. There are a number of early and promising signs that food and SDG2 will be firmly on this agenda. The UAE Presidency has dedicated December 10th as the thematic focus day on Food, Agriculture and Water in the official programme and is curating a political declaration on food systems for sign on by Member States – more to come on this. 
There will be three food-focused pavilions led by research groups, UN agencies and NGOs:
A number of other pavilions, hosted by countries and partners, are aiming to integrate food/SDG2 areas of focus across their events and activations, realizing the interconnections that exist across food systems and many current global challenges.
We are looking out for the inclusion of smallholders' priorities on the COP28 agenda, particularly progress on channeling a portion of adaptation funding to smallholders, in addition to overall food systems transformation initiatives, including promoting nutritious foods that are good for people and the planet.