It's easy to grow your own beans!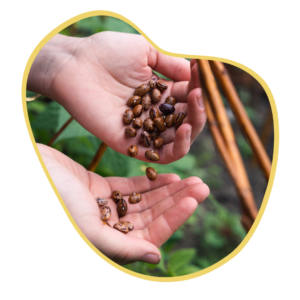 1. Grab a Grow Box
An enclosed space for growing the beans indoors or to protect them outside during colder months.
2. Pick a space
Choose somewhere sunny with drainage. Beans are a nitrogen-fixing crop, so they do not need much fertiliser.
3. Plant your Beans
Select your beans & sow them: Most types of shell bean seeds are sown 2 to 3 inches (5-7.6 cm.) apart in rows spaced 2 to 3 feet (.6-.9 m.) wide.
Remember beans do not tolerate frost so plan accordingly and then sow every four weeks until mid-July.
4. Care for the Beans
Make sure they are well-watered and weed by hand only, to avoid harming the bean.
5. Harvest the Beans
Make sure to pick them as they appear.
6. Share your progress
Share a photo of your beans using #beansinthegarden
7. Enjoy!
Check out our delicious bean recipes.