What can you do in
your own kitchens?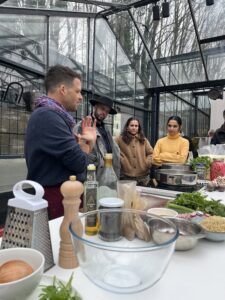 Lead by example.
Separate, monitor and set targets to reduce food waste. Manage food safety processes and use-by dates to avoid wastage.

Plan food orders and menus to minimise food waste. Offer smaller portion sizes.

Use the whole ingredient and encourage nose to tail, root to leaf eating. Be creative: pickle, preserve, dehydrate and freeze.

Divert waste from landfill. Investigate turning food waste into compost or bio-gas. Consider offsetting the carbon used in your restaurant or switching to renewable energy sources.

Be resource efficient. Manage water usage to cut costs and protect the environment.
Use your purchasing power.
Engage suppliers and producers to help incorporate surplus produce into menus.

Work with producers and suppliers to avoid excess packaging. Use recycled, recyclable and biodegradable packaging.
Be a community food champion.
Re-distribute surplus food through community sharing and food bank programmes or apps.
What can you ask of others?
To advocate for producers and retailers to join the Champions 12.3 initiative to help reach Global Goal 12.3 on tackling food waste.
Repurposed Food
"Zero Waste, More Taste" is Chef Giselle Makinde's ethos when it comes to making delicious gelato and sorbet from surplus food. Taking surplus fresh ingredients, or food that would have otherwise been thrown to landfill, Chef Giselle makes unique and tasty gelato flavours that are filled with natural ingredients. Cream of the Crop can be found in Ballycoolin, Ireland.
A Waste Free Restaurant
Arguably Britain's most sustainable restaurant, Silo London is a zero waste establishment which chef owner Douglas McMaster describes as "a system with no loose ends". Silo staff know their farmers and producers, and trade in a way that is respectful of the earth & its oceans; they minimise processing of ingredients, letting each ingredient speak for itself in its whole form; containers are reusable; and they know that creating "waste is a failure of the imagination", therefore, they get imaginative! To check out Silo and Chef Douglas McMaster, visit here.
Wise Up On Waste
In the UK, food waste costs the food and hospitality industry £2.5 billion each year.  Around 920,000 tonnes of food – equivalent to 1.3 billion meals – is thrown away annually, despite the fact that three-quarters of it could have been eaten.  Through its foodservice business, Unilever Food Solutions (UFS), Unilever is helping chefs and caterers to cut their food waste and see how much money they can save in the process. UFS' Wise Up on Waste tool, launched in the UK in 2013 allows chefs to track, monitor and reduce food waste across multiple sites.
Chefs' Manifesto Podcast – Episode 5: 
In Episode 5 of the Chefs' Manifesto Podcast, Anchor Chef Tom Hunt is talking to #zerowaste champions Chef Justin Horne, Chef Mary Sue Milliken and Chef Conor Spacey about tips and tricks how to reduce waste in the kitchen and about how to value natural resources.
LISTEN
Food Waste in a Food Secure World discusses the realities of food waste in developed and developing countries as well as the initiatives around the world working to fight food waste.  
#RecipeForDisaster: A new movement to combat food waste highlights the paradox of hunger and food waste in our world today. It calls for a multi-week social media movement to spotlight food waste by highlighting simple solutions to prevent waste in our homes.